Want to see something AMAZING? Just look at the fabulous white sand beaches of Coco Cay, Bahamas, the first Port of Call for the November 2012 Freedom of the Seas, Couples Cruise!
Coco Cay is a private island owned by Royal Caribbean International. This creates some unique benefits as a Port of Call such as it is populated only with those on a Royal Caribbean cruise so you are not competing against other cruises in port for excursions and other activities on shore, an included BBQ lunch and being able pay for almost anything using the your Sea Pass shipboard account. There are some exceptions such as items in the straw market and for those you will pay using US Dollars.
The island was once a deserted island know as Little Stirrup Cay and was part of a collection of cays and small islands that is located about 55 miles north of Nassau, Bahamas. The small island is only a kilometer wide from east to west and about 200 meters north to south, but for snorkeling fans, the collection of Manatee, various Ray species, and plentiful varieties of tropical fish make it a very special port of call.
There is no actual dock on the cay, so the ship is anchored a short distance off shore, and special tender boats take you to and from Coco Cay.
Popular Excursions
Note: The excursions available may vary and some excursions may not be offered for this cruise. You can confirm excursions and make your reservations online prior to the cruise.
This being a private island, all of the excursions are operated by Royal Caribbean, so most will offer a first class experience. Common activities include snorkeling, scuba, parasailing, renting wave runners, kayaking, and the Caylanas Water Park. The parasailing trip is considered a highlight experience as the 400' height allows you to view both Coco Cay and nearby sister island, Great Stirrup Cay.
There is a fee to enter the Caylanas Water Park but for most this will not be a major attraction as it is really targeted toward families and children, however some of the water play floats do look tempting.
For hikers, there are nature trails which run the entire length and width of the island, as well as walking the island's beach fronts.
Special note: Use of the personal watercraft (aka wave runners) requires that you to provide the attendants with a valid drivers license.
Book excursions in advance if you can! There are several advantages. 1) You know you have a reserved place on the excursion, there is limited space for some activities and the popular excursions sometimes sell out before the cruise starts. 2) One less thing to worry about paying for while you are vacationing on the cruise. A list of excursions is provided below.
Other Activities
With beautiful beaches and the tropical Caribbean weather, tanning, swimming, walking the beach are great ways to relax during your vacation to Coco Cay. Sand Volley Ball courts are available and with 4,000 Couples Cruisers around, I am sure you can find plenty of interested couples for a a pick-up game (of Volleyball that is!).
Shopping
Most of the shopping is serviced by locals who live on nearby Great Harbor Island and commute to Coco Cay to offer tropical clothing, arts, crafts. souvenirs and a variety of knickknacks in a straw market. There is not a lot of serious shopping to be done here. Hair braiding is also available. Most items will need to be purchased using US Currency.
Dining
There are no typical restaurants on Coco Cay, but Royal Caribbean provides a complimentary BBQ lunch and snacks at Blackbeard's and Bahama Jack's Grilles. Adult beverages will be plentiful and can be purchased using your Sea Pass (shipboard account) at Wacky Seagull, Junkanoo Jack's, Wacky Seagull Juniors, Bahama Jacks, Island Oasis, and Coconut Willies' Bar. Nonalcoholic beverages are also readily available. But for me, it has been recommended to me to try the legendary "Coco Loco" - now that sounds like my kind of drink! Food and drink can be purchased using your Sea Pass.
The Best Beach
Coco Cay has beaches at every turn, but the travel bloggers all agree that Barefoot Beach which is a 5 minute walk from the main area of the cay has the softest and least gritty sand and is a fantastic beach.
Budgeting for Coco Cay
Coco Cay is wonderful, except there is a bit too pricey for my preferences. The lunch and lounge chairs are free. Almost everything else has a price tag.
Price

($USD)

Description

Aqua Park

Caylana's Castle Cove

$15

Water activities with inflated slides, water rockers, water trampolines, climbing obstacles and floats.

Water Slide

$20

This is billed as the largest outdoor "inflatable" water slide at 40' tall. If you are interested in this, I would suggest you get the next excursion listed that combines both the Aqua Park and the Water Slide activities.

Aqua Park &

Water Slide Combo

$30

Sorry no video.

Click on the pictures above to see both activities

If you are interested in either the Aqua Park or the Water slide, this is likely your best option. These activities are really targeted at younger kids and families, but can be a lot of fun for the hours you will be spending at Coco Cay.

Snorkeling

At your Leisure

(Duration: At your leisure)

$29

The Snorkeling Excursions offered are "At Your Leisure" means you are on your own while snorkeling. You are provided with equipment instruction and a marine life orientation. The equipment provided is a mask, fins, snorkel, and snorkel vest. You must wear a snorkel vest at all times when snorkeling at Coco Cay. Coco Cay is populated by a wide variety of ocean life with the highlights being Parrot Fish, Trigger Fish, Groupers and Eagle Rays. Bring a waterproof digital camera to record the adventure! (Activity Link)

Coco Cay Nature Walk

(Duration: 1 Hour 15 Minutes)

$18

This is a tour of the island with a naturalist and historian guide who is knowledgable of and will share information about the island's rich tropical wildlife (land and marine), plant life, historical ruins, and stories steeped in pirate lore. The distance is not that great, roughly 1 km, but because of the terrain this activity has a moderate exertion level rating. The excursion ends at a Coco Cay secluded beach where you can relax and recover.

Sturdy shoes, sun protection, cotton socks, insect repellent and bottled water are all recommended for this hike. The pace is leisurely and the guide will provide great information about the island. Don't forget to bring your camera! (Activity Link)

Coo Cay Wave Jet Tour

(Duration: 50 minutes)

$79

(Driver)

$29

(Passenger)

A good friend of mine always says "You ain't havin' fun if you ain't burnin' gasoline" and Coco Cay has fun written all over it when it comes to hitting waves with power. Don't worry if you have never driven a wave runner before, the guide will provide instructions before you hit the ocean. Some of the sites you will see as you fly across the waves is nearby Great Stirrup Cay Lighthouse, Slaughter Harbor, Star Fish Alley, and the abandon island of Cistern Cay.

A couples of notes: No alcohol may be consumed before the tour. You will be driving a Sea-Doo for the 50 minute guided tour around the Berry Islands. Sun protection is a must and you will get wet so dress accordingly. If you are a couple, budget for 1 driver and 1 passenger. It is highly recommended you book this excursion in advance because there is limited space and a lot of interested Couples Cruisers who will want to experience this. (Activity Link)

Eco Adventure Boat Tour

(Duration: 1 hour 30 minutes)

$39

This tour takes you on a special tour of the North Berry Islands aboard a custom covered tour boat. Your guide will talk about the wildlife, the Berry Islands, and the colorful history of the area. You will see marine life such as sharks, sting rays, and barracudas in a natural habitat. The hands on experiences provided by your guide will let you touch giant starfish, conch, and crabs (please note it is socially acceptable to have crabs with this experience).

Other spots on the tour include a 250 foot blue hole, a mangrove estuary, caves, and the former hideaway of the "Rat Pack". This is a great activity to pair with the Nature Trail Hike if you want the total picture of the Coco Cay ecosystem.

Bring your camera and your sun protection! (Activity Link)

Kayak Adventure

(Duration: 1 Hour 30 Minutes)

$32

(per person)

Yet another way to tour the area is on board your own 2 person ocean kayak. This is a 90 minute guided tour of the area conducted at a nice leisurely pace through the shallow clear waters of the cay. This is a great chance to see up close the wide variety of sea life living around the reefs of Coco Cay.

Bring a waterproof camera to capture pictures of Parrot Fish, Stingrays, and Starfish in their natural habitat. Also bring your diving or reef shoes to protect your feet when you are out of the kayak.

Guest are required to wear provided personal floatation devices at all time. (Activity Link)

Kayak Adventure & Snorkel Combo

(Duration: Kayak Adventure is 1 hour and 30 minutes, snorkeling is at your leisure either before or after the kayaking tour)

$51

(per person)

Sorry no video.

Click on the pictures above to see both activities

This is the way to schedule a complete day. It is a combination of the Kayak Adventure and Snorkeling At Your Leisure. Just to clarify you won't be stopping during the Kayak Adventure Tour to do your snorkeling. It's a little confusing if you don't read the description of this excursion carefully, you will snorkel on your own either before or after you take the kayak tour.

This is the same tour as the Kayak Adventure so check that description for more information. (Activity Link)

Parasail Adventure Tour

(Duration: 45 minutes to 1 Hour on boat, 5 to 6 minutes in the air)

$74

I went parasailing for the first time last year in Maui. If you have never done this before it is a MUST ADD for your "Bucket List".

For this excursion two people always go up at a time. There will be 5 to 7 pairs on your boat waiting for their turn. The boat ride is great, but its your turn in the air that really matters. At 400' in the air, you can see the neighboring island. You get a great view of the cay and if you bring your camera (waterproof of course) you will get some amazing shots.

Bring your camera, sun protection, and photo id. If you plan on doing this, make sure you have a lanyard for your sunglasses and camera so you don't accidently lose them while in the air.

I suggest that you make your reservation before the cruise if you can, because this is one of the things that will likely sell out before the cruise even begins. (Activity Link)

Scuba Dive With or Without Equipment (Rental)

(Duration: 1 hour 30 minutes)

$55

(with equipment)

$44

(w/o equipment)

NOTE: This activity is for Certified Divers who must present a valid certification "C" card in order to participate. Divers must have been on a dive within the past two years to qualify for this excursion.

This excursion is priced two ways. 1) if you have your own equipment 2) if you want to use the rental equipment.

Coco Cay is known for crystal clear water and an active ecosystem of wildlife and coral formations. This single tank drive starts in waist deep water and eventually migrates to a depth of 40 feet while you explore the colorful reef.

The included equipment package provides a regulator, B.C., mask, fins, snorkel, tank, and weights.

Bring your underwater camera for this world class dive. (Activity Link)

Right Choice Glass Bottom Boat Tour

(Duration: 1 hour 30 minutes)

$35

In the laundry list of cool things to do while at a port of call, a Glass Bottom Boat around the shallow and crystal clear waters of Coco Cay has to be way up there. The expected marine life you will see includes Parrot and Trigger Fish, Eagle Rays, Sting Rays, and Sea Turtles.

You will be on a narrated tour of the area around the Berry Islands on a glass bottomed catamaran with a wonderful view of the colorful coral, Starfish, and Conch that are plentiful in the area. The 90 minute trip on the customized covered boat will provide a unique experience on your Couples Cruise. (Activity Link)

Floating Beach Mat

$10

Ok - this is so me! Relaxing, tanning, having a fruity cocktail beverage in the shallow waters of the cove. No tour guide. No crowd. Just you and your floaty mat... and something with Tequila in it... or Rum... it doesn't really matter after the 3rd or 4th one anyway.

There are several "stations" on the island to get your mat. Enjoy!

Disclaimer: Before some English teacher beats me over the perfectly good word of Floaty, I know it isn't a real word, but I consider it a Blonde word, therefore via logic a perfectly good word to describe a perfectly cool thing I will be floating on for sure!
Last Thoughts
Freedom of the Seas will be arriving at 7:00 AM and departing at 4:00 PM, so plan your day in Coco Cay accordingly.
Leave time for the BBQ lunch provided by Royal Caribbean and make sure to check the Daily Activities (the Daily Compass) which is printed and place in your cabin for the times when lunch is offered.
Remember to bring sun protection. Coco Cay is virtually surrounded and sites on top of a coral reef so dive or reef shoes are a wise investment and will protect your feet from the jagged coral which can be lurking just under the sand. Water in the rest rooms is not safe for drinking. So either bring bottled water with you or get water at the food and beverage venues. If you are getting the juice package, bring along some juice as a mid-day refresher to help restore energy during a long day of activities.
A map of Coco Cay with notes on the Port of Call is posted on the Yahoo groups in the files section.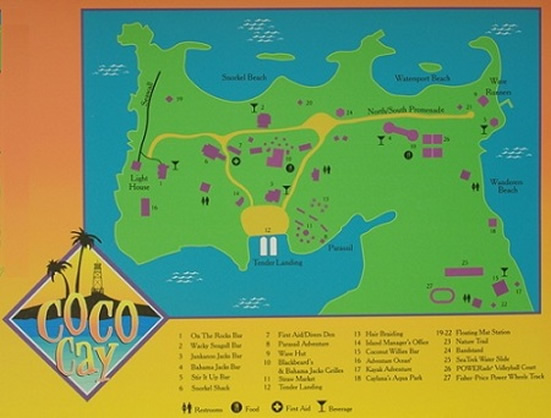 The 2 page map and information guide is in a PDF format (if you have trouble with this - please e-mail me at ripadip@hotmail.com) and can also be found by clicking on the map above.
Coco Cay Quick Facts
Currency

US Dollar

& Sea Pass

Language

English

Temperatures

(Nov Average)

Hi: 83°

Low: 70°

Water Temp

75

°

to 80°

Access

Via Tender

Nudity

Not Allowed

ATMs

NONE!
Coco Cay in the Bahamas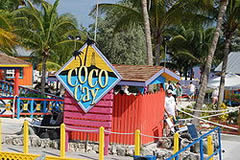 Arriving at Coco Cay
Snorkeling Coco Cay Bahamas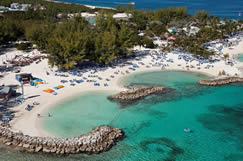 Watersport Beach
Coco Cay Beach with
Ship Anchored Off Shore
Arriving by Tender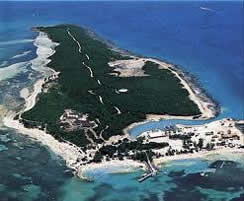 Coco Cay from the Air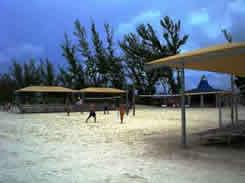 Sand Volley Ball
Dive or Reef Shoes are a wise investment to protect your feet near the reefs of Coco Cay and can be found for a little as $10 per pair at many local sporting goods stores and some Walmarts.
My New Best Coco Cay Friend!
Get your hair braided at the Straw Market or pick up a Coco Cay souvenir.
You will find your Snorkeling Excursion at the Snorkel Shack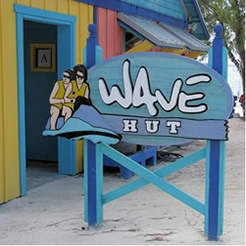 Hop your Wave Runner at the Wave Hut
The Legendary "Coco-Loco" - I have got to seriously try this one!
I am sooooo there - please tell them to stock up on Tequila!
The "Secluded Beach" from the Nature Walk Excursion
Southern Shore of Coco Cay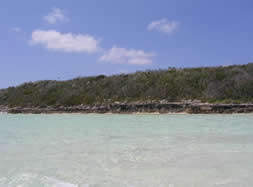 View of Coco Cay from Kayak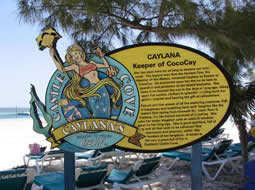 The Story of Caylana, Keeper of Coco Cay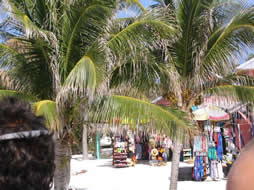 Browsing in the Straw Market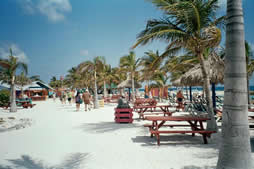 Picnic Area on Coco Cay
Coco Cay from On Deck
As I am sitting here having just gotten home after an evening at an Austin, Texas lifestyle club, I just did the math and it is 252 days, 9 hours, and 58 minutes until we all start boarding Freedom of the Seas. That just a little over 8 months before the cruise starts, so the question I have been getting asked lately is "Why are you so focused on the cruise now?", and the answer is simple.
A Couples Cruise can be one of those once in a lifetime adventures. Even for those like my husband and I that have vowed to never miss a cruise, it is still a big investment and a our major vacation. Stacked on top of all of this is that Freedom of the Seas 2012 is no ordinary cruise. Until 2010, Freedom of the Seas was the largest cruise ship afloat. With approximately 2,000 couples on board, things such as hotel rooms for the night before the cruise and the excursions on the various ports of call can fill up quickly.
So I have my 10 reasons why you need to start preparing now for your Couples Cruise.
Clothes. Hey - I am a girl, and I love clothes. We will be going on a tropical vacation cruise in the middle of November. If you wait until September to buy your outfits for the cruise, what will be left? NOTHING! It's spring time now, so look for those special deals on summer clothes and set aside a few outfits just for the cruise. On the first two cruises, I frequently was wearing as many as three outfits a day. One for the excursion (my PG-13 outfit), one for diner (classy but naughty R rated outfit) and one for that evening's theme party - which was could range from R to X-rated. The point is that now is the best time to buy clothes for the upcoming Couples Cruise.
Hotel Rooms. The Hotel rooms are filling up fast. Last time I check, the Orlando Airport Renaissance Hotel was almost full. This is where one of the major pre-cruise parties will be held the day/night before the cruise. The same is true of the other two hotels that are closer to Port Canaveral; the Radisson Port Canaveral and Country Inn and Suites. The time to book hotel rooms for the night before the cruise and if required the night after the cruise is NOW!
Ok, at the last minute, I ran into a minor edit problem with #3. I had put in here the potential of getting an upgrade and enhancing your trip. When my good friend Lynn who is the "Goddess of things most cruise like" read a pre-release copy, she made it clear to me that while not impossible, getting a cabin upgrade was about as likely as getting my husband to change the cat liter box. So instead of having Cabin Upgrade as #3, I am going to change it to "Finding Creative Ways to Stowaway a Bottle of Don Julio 1942 Tequila to share with Tina Marie on the cruise" and still call this article "10 Reasons...".
identification. Getting things done early such as making sure your driver's license is renewed, or getting a passport taken care of avoid one more last minute pitfall that can destroy your cruise vacation. Remember the expiration day has to extend at least to the end of the cruise.
"Female Adjustments". This is a swingers cruise. While some may think it extreme, I already went to my doctor and have had some minor medical adjustments made to my time of the month so that I am not cruising in the middle of my period.
Meets & Greets. Never hurts to look for opportunities to meet other couples going on the cruise before the cruise. There are several groups getting together around the country for house parties or at a local club to have an opportunity to break the ice before the cruise.
Budgeting. Until this newsletter came out, some of you may have had no idea what some of the excursions cost. Perhaps you want to have a nice wine package for the cruise. Budgeting and setting aside a little money each month between now and the cruise and provide you with that extra play money you may want during the cruise.
Get that Beach Body going. Truth be told, I wasn't happy looking in the mirror, so in January, knowing I was going on the trip I started Weight Watchers and started going to 24 hour fitness. By starting now, I am not having to diet hard, a half lb. every week makes my goal easily accomplished of losing 15 lbs before the cruise. A 30 minute workout 3 days of week has already improved my stamina for the excursions I want to take and since January as taken 1 inch off the 1 1/2" inches I want to take off my waistline.
Excursions. Booking your excursions at the last minute can cause some problems. You may not get as much in because two excursions you want may only be available at the same time because the other sections are full. Or worse yet, the excursion may not be available for you at all because it is booked. With 2,000 couples descending on Coco Cay, it is unlikely you can just show up and go Parasailing. Those exciting excursions that everyone wants to do have a good chance of being sold out before the cruise sets sail.
Planning. As they say, fail to plan, plan to fail. Starting your planning now means a less stressful time leading up to the cruise and certainly a much easier time once you get on the boat. For example, having your wine package pre-purchased means that you won't be standing in line with everyone else trying to decide which package they want to purchase and waiting for their turn to buy. Instead you will be pool side with me drinking some foo-foo drink dancing.
As we get closer to the cruise, I will be posting packing checklist and other cruise aids which I am busy updating with things learned from the past two Couples Cruises. In the meantime, download the old checklists and get started with your planning.
See you on the "Naughty Boat"
Kisses,
Tina Marie

This Editions
Very Special Open Letter
Dear Association of Lube Manufacturers,
Seriously, can you please get more inventive with the flavors? I have been sexually active for some time now and found the lube can be very fun and enjoyable. But please, cherry sucks, cinnamon is ok but its gotten old, and strawberry is horrible and never really tastes like strawberries.
I was hoping you could take some times and go talk to the boys over at Jelly Belly jellybeans. Now that would be awesome. Think about the potential here; fucking with Hot Buttered Popcorn or oral with Key Lime Pie! That would rock! Getting naughty with Blueberry, Mango, or Carmel Corn would make me buy your product in bulk.
Try little samples - perhaps a bag with 50 little one use flavors!
This being said, we have to be practical, I know there is Jalapeno and Thai Pepper flavors as well. I think you should avoid these because if I ever got one of those, it could have a very negative impact on the 69 or other oral sex position I might be in at that moment.
Kisses,
Tina Marie
Download the Deck Plans
I have published all of the recent Deck Plans on the CouplesCruise Yahoo Group.
http://groups.yahoo.com/group/couplescruise/files/
I will also be posting them on a Blog page in the near future. I will post them again when the official Couples Cruise Blog is ready which is hopefully soon!
Packing Checklists
I am waiting until they announce the themes for the November 2012 cruise before I send out the Packing Checklist. However for those who want to get an early start, the checklist from the April 2011 cruise is available online. Just ignore the them information.
There are two locations you can find the guide on two different Yahoo groups;
http://groups.yahoo.com/group/couplescruise/files/
and
http://groups.yahoo.com/group/freedomoftheseas/files/
Still Haven't Booked Yet?
I am still hearing that there is still time to get a cabin for the November 2012 Cruise. Post your interest on the group sites and someone will contact you quickly or e-mail me and I will steer you in the right direction.
March Deal!
Lynn who is wonderful at TheSwingersCruise.com sent me notice today that was too late to include in here except for the link and some basic information. Bob and Tess (Couples Cruise) are offering a free Naughty in N'awlins Conference Pass (regularly $525) for those who book in March for one of the 2013 cruises. For more information, click on the coupon below. The list of eligible 2013 cruises is below the coupon.
January 2013

Jewel of the Seas

Departs: Tampa, Florida
George Town, Grand Cayman Islands
Playa Del Carmen, Mexico
6 Days 5 Nights
1/28/2013 to 2/2/2013

April 2013

Brilliance of the Seas

Departs: San Juan, Puerto Rico
Willemstad, Curacao
Oranjestad, Aruba
Basseterre, St. Kitts
Philipsburg, St. Maarten
8 Days 7 Nights
4/13/2013 to 4/20/2013

November 2013

Freedom of the Seas

Departs: Port Canaveral, Florida
Labadee, Hati
Falmouth, Jamaica
Cozumel, Mexico
8 Days 7 Nights
11/10/2013 to 11/17/2013
Couples Bloggin' Soon
Couples Cruise has a new blog site in the works. Not sure when it will be completed, but I plan on getting everything post there as well. If you missed a blog, I also have them posted online and most are in the Yahoo groups. However, I am saving some blogs just for the Couples Cruise Blog site.
Next Month's Issue
Next month I will be posting information about the second stop on the November Cruise 2012. Charlotte Amalie, St. Thomas in the Virgin Islands (that still cracks me up - a Swingers Cruise in the Virgin Islands - guess you might have to be me to think that this is a cool irony).